Shirley Knapp
Phone 828-736-7100 • Fax 267-960-6440
shirley@shirleyknapp.com • website problems?

Authors' Notes


Shirley Knapp

I write this piece filled with the joy of knowing that these loving words are to be shared at last. In the ten years that it has taken me to harvest these insights and thoughts, I have personally lived through each chapter and have found that not only can I choose to live joyfully, but I'm also able to sustain it. The excitement of knowing this is really beyond words...

My time is here at last to feel the freedom of total unconditional love, not only for myself, but for all who receive these beautiful words. Thank you all for participating in my personal process of laughter, joy and love.


Nanette McLane

There is no sweeter music than the sound of laughter, and certainly right now the gods must be laughing. Here I was a year ago, preparing to attend a writer's residence with only one goal in mind: to work on connecting heart to creativity. My writing, I feel, lacks passion, and I believe that by somehow getting my heart involved in the process, I'll become a better writer...

Well, as they say, the rest is history. The Universe has brought me great joy and much laughter since then. My wish for you is this: that as you read and work with these materials you, too, will feel, as I did, that all of this has been orchestrated solely for your benefit, as indeed it has.

Lighten Up! (excerpt)

Raising consciousness is like a dance of energies. The more you laugh, the lighter you dance. The lighter you dance, the more in touch you are with Higher Consciousness which is aligned with your soul path, and the easier your life becomes.

Approaching life's lessons with a playful attitude and a sense of humor makes the learning fun and turns the spiritual journey into an exciting, creative adventure. Remember to laugh and play while on your journey, and dance, dance, dance. Once you learn the steps, you can teach them to others, and then, oh, what joy, what laughter, what beautiful music as we all laugh and dance together as One.

We hope you'll have fun playing with the exercises that follow.

(Book Worksheet)






Published 1997
Distributed by Baker & Taylor, and New Leaf Distributing Company
Represented by Amazon.com

Sustaining Joy
Copyright © 1997-2015 Shirley Knapp
All rights reserved

Sustaining Joy eBook
Copyright © 2003-2015 Shirley Knapp
All rights reserved




$2.99
To order Amazon.com Kindle Edition
click here
To order BarnesandNoble.com Nook Book
click here

For reviews, click here
For those who require more in depth work, Shirley offers classes and self-taught modalities based on the book. Click here.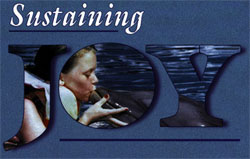 This practical guide to finding and sustaining joy is in the form of a workbook with exercises, excerpts and personal anecdotes from both Shirley and her participants in workshops and seminars.
Sustaining Joy tackles issues of awakening passions, dealing with our fears, understanding and building relationships, and dealing with obstacles in life which keep us from realizing our own joy. A guidebook of perfectly aligned information for growth.

Joy is what health is all about, and the joy that comes from unconditional love is the "Love that is Infinite and Unconditional flooding into your Heart and filling you with Divine Light and Bliss." 1
"The heart is moving with the soul," the authors tell us in this wide sized, spiral bound workbook. "The soul and the heart work together, so when you're in the heart, you can feel the soul." Each chapter is a special exercise in sustaining joy.
This work/playbook is the result of a decade of insights on living a life of passion. These insights present a new approach to transforming fear into joy. The exercises provided help you evaluate and expand your consciousness by connecting with the source of your passion and creativity. The book helps you identify what visions you have for your life and guides you through the process of changing dreams into reality.
Book Excerpts
Following are excerpts from the 64 page work and play book Sustaining Joy by Shirley Knapp and Nanette McLane:
About This Book
We have chosen to share these insights and love from many dimensions of thought and realities. The time for joy is now and will continue to create more of a foundation for each of you in your lives as you consciously choose Joy over fear.
This book is designed to bring you laughter, play, and fun as you continue to unfold into your Truth. Pick it up anytime and notice how you are guided to the perfectly aligned information and exercise needed for your growth at that particular time. Encourage your family, friends, and loved ones to share lightheartedly in your journey. The insights are timeless and inspire growth and Joy.
Joy is always available. It is yours. Choose it . . . sustain it!
Asking and Receiving
Exercise: Without asking you do not expand into the next vibration of your consciousness. Most of us ask far too "little" of the Universe. Dare to acknowledge your deepest dreams and desires, and dare to ask the Universe. Dare to ask "big," then open yourself to receiving. Expect miracles and stay open to receiving all the Universe has to offer.
(Worksheet pictured to the left)

1 A message from Archangel Michael channeled by Celia Fenn http://starchildglobal.com/solstice2011june.html
Copyright © Celia Fenn All Rights Reserved